Water damage is undeniably one of the biggest problems that Snohomish, Washington, homeowners face today. Reports reveal insurance companies paid out $13 billion to restore homes, buildings damaged by water in 2017 alone. Home water damage can be due to several scenarios, including faulty plumbing systems, storm damage, or frozen pipes.
So if you arrive home one evening to find your property extensively damaged by water, should you immediately file a claim? Well, most home insurance policies cover water leak damage. However, there are also exceptions you'll want to be wary of.
Let's look at what is covered in a water damage claim and how to benefit from it:
Types Of Water Damage Covered By Insurance
Insurance claims only cover water leaks and water damage caused by sudden incidents or accidents. For example, if a sudden pipe burst damages your home, this damage will likely be covered by your insurance. In a nutshell, the types of water damages covered by homeowners insurance may include:
Flood damage (if you have flood insurance)
Accidental sewer backup or overflow
Storm-related water damage
Sudden or accidental water discharge
Types of Water Damage Not Covered By Insurance
The primary type of water damage not covered by most insurance covers is gradual damage. Gradual damages are caused by a long-standing problem that you were unable to detect and ameliorate. It is described as damage to property that happens slowly over time. For example, deterioration of piping systems due to lack of proper maintenance can be termed as gradual damage. Examples of gradual water damage not covered by insurance include:
Mold, rot, and corrosion due to water leaks
Damage caused by leaky pipes due to lack of maintenance
Water damage caused by broken pipes due to gradual damage
Foundation seepage that lets water into the home foundation
Damaged parts on the roof that showed signs of needed repair
Why Was My Water Damage Claim Denied?
If your insurance company denies any of your claims, ask for a comprehensive explanation. Find out the part of the contract or policy that excludes you from the coverage. If you feel the denial was unfair, speak to your agent or representative and request a review or a second opinion. You may also consider seeking an alternative view from an organization specializing in consumer advocacy.
How Can I Avoid Getting My Water Damage Claim Denied?
Below are some tips to avoid getting your water damage claim denied: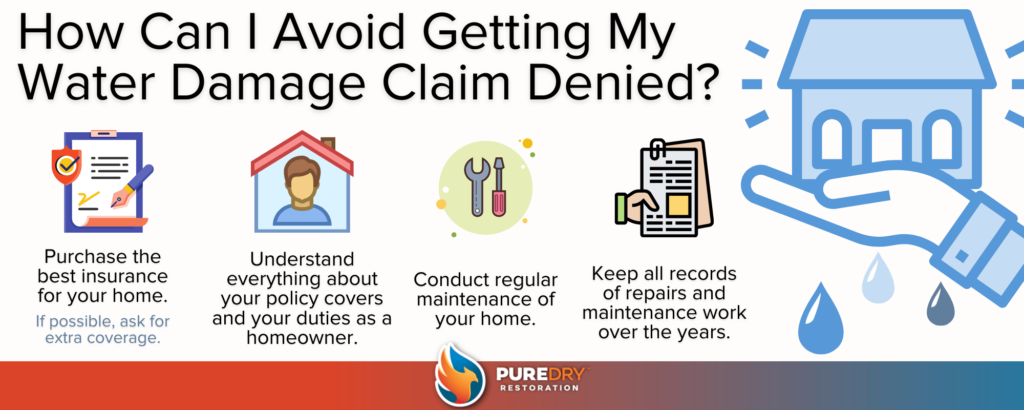 At PureDry Restoration, we perform emergency water mitigation, mold, and dry out services for commercial and residential property owners in and around Snohomish, Washington. Contact us today for more information.